https://www.youtube.com/watch?v=aE84T8sRH64
BANZAI CHALLENGE
The ultimate sensory adventure!
The Banzai Challenge is a new concept of entertainment that you will not find anywhere else on the planet!
Teams of 2 to 10 players have to complete 5 missions in which your 5 senses and teamwork will be tested to the limit.
Strong emotions and lots of laughter absolutely guaranteed!!
Will you be able to overcome the challenges? What score will you accomplish?!
More Information
Book
BANZAI BOMB
Pressure to the limit to disarm a treacherous bomb
A real challenge of communication and attention to detail!
Teams of 2 to 7 players will have to successfully disarm a bomb before time runs out!
Some stay with the bomb and others with the instructions.
Who's going to give in to the pressure first?
More Information
Book
For whom
Always played in teams of minimum of 2 people
Friends and families
Come discover new dimensions of team fun you didn't even know existed
Bachelor/Hen Parties
The best choice for unique memories that no one will forget and with lots of fun in the mix!
Companies
We take the concept of Team Building to new boundaries. The most innovative dynamics are in Banzai
Birthday Parties
Our space has much more to offer than you think and we guarantee the best birthday parties in Oporto!
Tourists
Banzai's activities are unique and unique throughout the world. You'll only find them in Oporto so don't miss the opportunity
Other events
You need a different and unique space and activities to hold a memorable event. Banzai has personalized offers.
"Teste os seus limites. Reúna os amigos, a família ou os colegas de trabalho e vá até este novo espaço na Baixa que põe à prova as suas capacidades físicas, sensoriais e intelectuais. Aguenta a pressão?

TimeOut Porto

Edição de Agosto 2019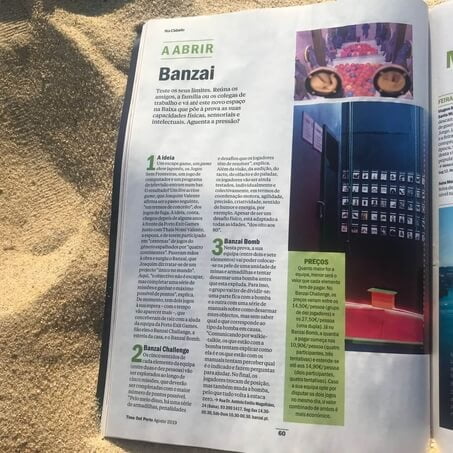 Where we are
We are located in the epicentre of downtown Porto, close to excellent restaurants, bars and historical attractions of the city.
Address
Rua Dr. António Emílio Magalhães 24
References
Pharmacy Sá da Bandeira > distance 0 m (below)
Bolhão Market (in construction) > distance 50 m (is just down the street Sá da Bandeira)
Bolhão > Metro station distance 150 m
Underground car park Praça D. João IV > distance 30 m
Contacts
Email: team@banzai.pt
Tel: +351 915 901 013
FAQ
If you have any questions, call us or send us an email
Games from 8 to 80 years old
Our activities are suitable for the whole family and there is no need to take any course to play! Just want to have fun!
2 to 10 players per team
The games are adapted to different constitutions of teams and we can also have several groups playing simultaneously so do not be afraid to come with a group of dozens of participants.
More useful information
More than 2500 5-star reviews on Tripadvisor, Facebook and Google leave no doubt as to the quality of the Games
Just 5 min walk from Banzai allows large groups to divide between the 2 locations
The 3 escape games of Port Exit Games are quite different between them providing memorable moments of fun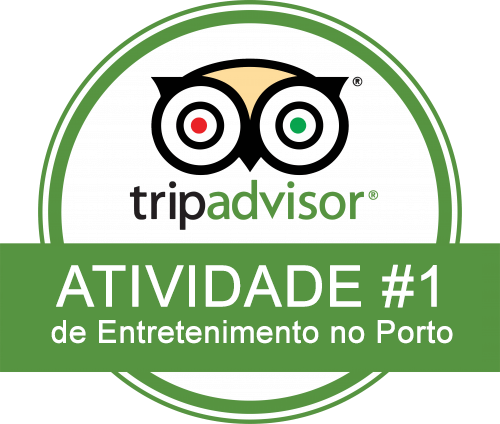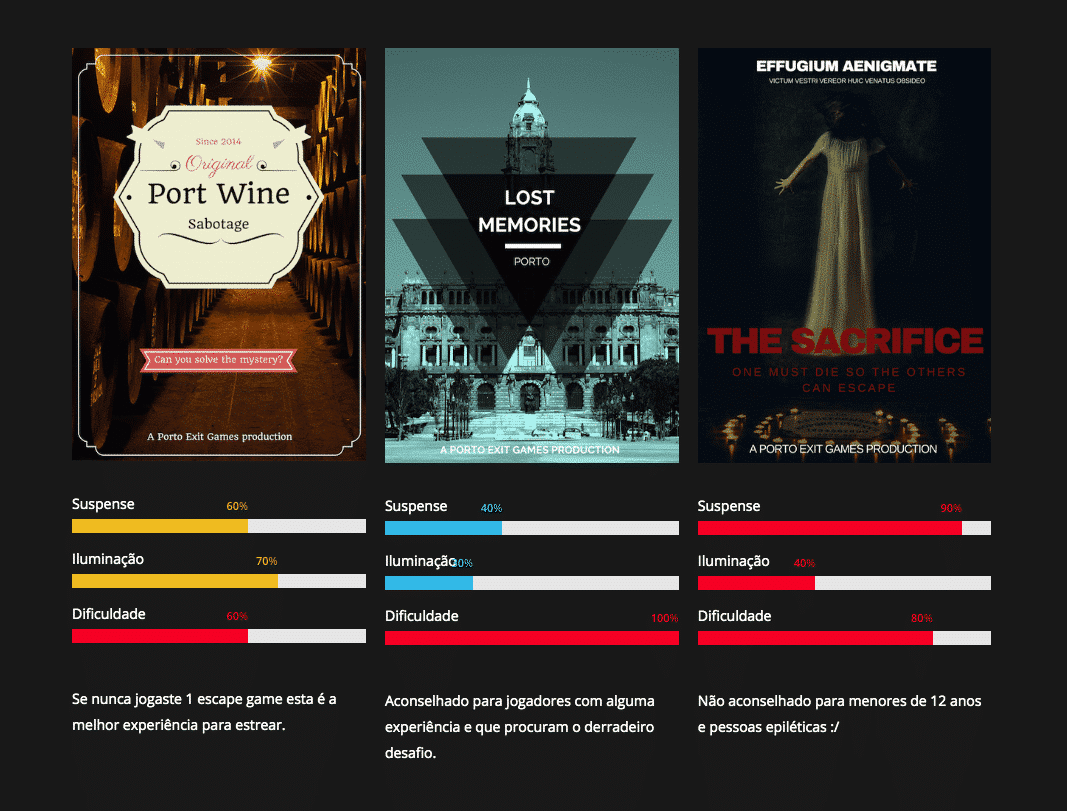 Lots of fun and stories to tell guaranteed
"DIVERSÃO TOTAL
Éramos uma equipa de adultos, adolescentes e crianças e os desafios são transversais. Muito divertido, puxa pelo nosso espírito de equipa, é desafiante e viciante. Não conhecia, mas adorei e cá em casa querem todos voltar! Recomendo vivamente, é uma experiência animadíssima, uma ótima forma de conviver e superar desafios e ótima para a mente e para o corpo!"

Tripadvisor user: alexandrasmlopes

Julho 2019
Read review
"OTIMO PARA TEAM BUILDING
Diverti-me a valer.
Coloca-nos à prova em situações diferentes, fora da nossa zona de conforto e que exigem colaboração e trabalho de equipa para serem superadas.
Gostei muito."

Tripadvisor user: Daydream22529468850

Julho 2019
Read review
"QUE EXPERIÊNCIA!!!
Não dá para a explicar um experiencia sensorial fantastica!! Jogos sem fronteiras + escape game + prova sensorial... enfim, fantástico!! Ideal para ir com um grupo de amigos ou actividade team building"

Tripadvisor user: luispG9780LW

Junho 2019
Read review
"UM EXCELENTE SITIO PARA PASSAR UMA TARDE
O banzai é um local apropriado para todas as idades onde podemos divertir-nos e não dar pelo tempo passar. Os nossos sentidos aliam-se com a tecnologia para levar a uma ótima aventura que certamente ficará na memória."

Tripadvisor user: Catiaviana

Julho 2019
Read review
This error message is only visible to WordPress admins
Error: API requests are being delayed for this account. New posts will not be retrieved.
There may be an issue with the Instagram Access Token that you are using. Your server might also be unable to connect to Instagram at this time.